What is Ginger Bugs?
Ginger Bugs Lodi, is a fun, clean play place for kids to play but more importantly a trendy, comfy place for adults to hang too!
At Ginger Bugs you'll find a waddler area where babies can play and practice balancing (and not get trampled); a tricked-out play structure with fun hideouts, play kitchen, soft play equipment and a gigantic ball pit! We didn't forget the grown ups… we have free wifi, a coffee bar and comfy places to chill!
We don't think of Ginger Bugs as just a play space and coffee bar, but a community for families to share, learn, and have fun with one another while supporting their children's natural behaviors as they engage in open-ended play and discovery.  Yada, Yada, Yada…. That all sounds great and it's true, but let's be honest, it's a place for the adults to catch a break and talk to other adults, check their social media and enjoy some caffeine!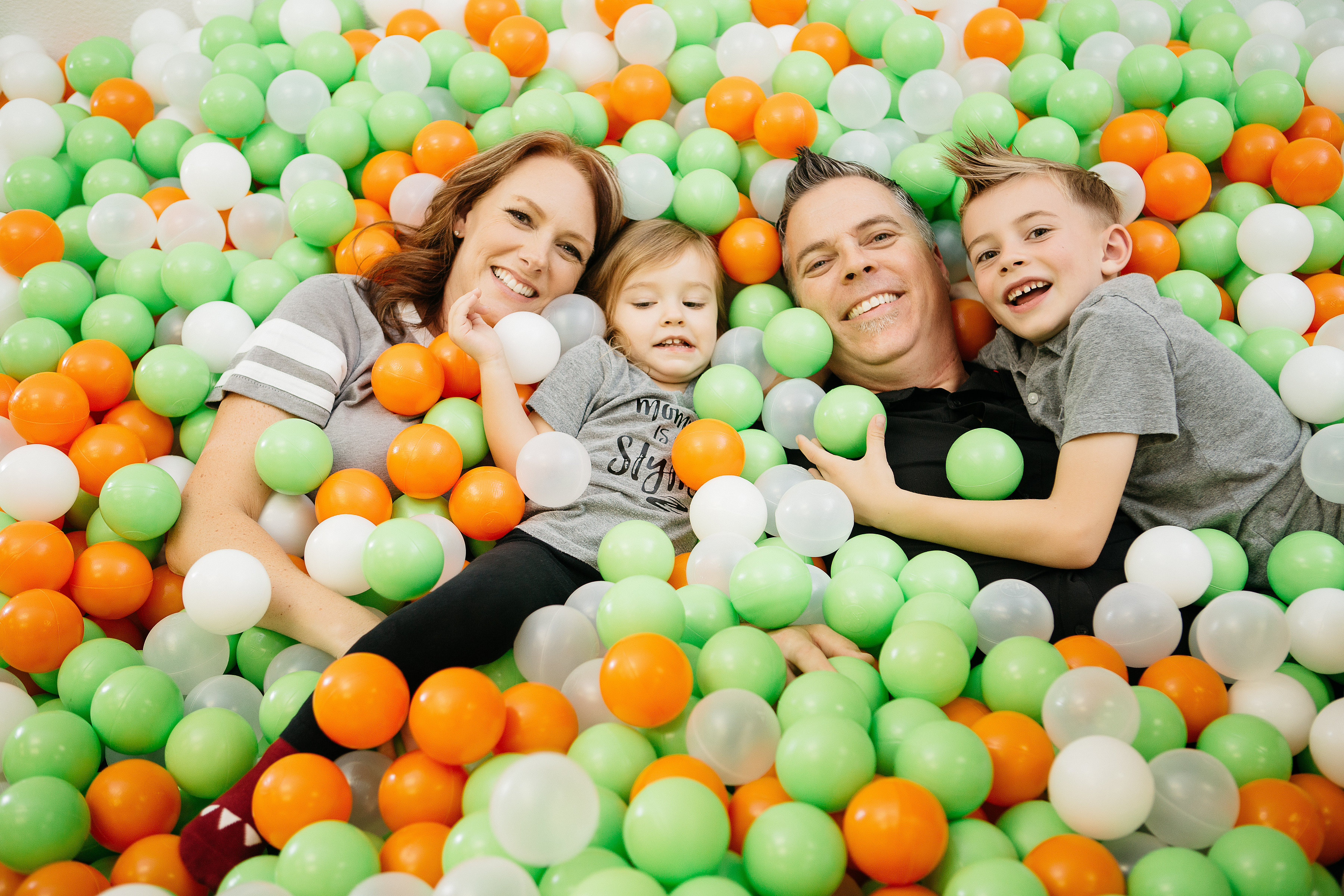 Kelli and Jim
Owners
Starting our family in 2009 meant a lot of changes, Kelli left her demanding career for the equally demanding position of stay at home mom.  With Jimmy at work, and immediate family 400 miles away, Kelli found refuge from her long nights with little sleep in the indoor play places near their home in Southern California.  After moving to Lodi, and the arrival of their youngest child, Kelli was again yearning for adult conversation, validation as a mom, and a healthy dose of caffeine….and the idea for Ginger Bugs was born.  Kelli started Ginger Bug Designs, a custom apparel and party decor supplier with a focus on kids and families, and has expanded the brand to include the newly constructed, Ginger Bugs Lodi!
Features
We have done countless hours of research on our play products and feel we have the best of the best!  Safety, cleanliness and fun are our top priorities!
Ballpit and Balls:
Our GermBLOCK ball-pit balls incorporate state-of-the-art bio-static technology that tests successfully against over 50 common harmful germs, as well as mold, mildew, algae and fungi.
Made in the USA with patented technology GermBLOCK's protection never diminishes or wears out. It's protection that lasts for the life of the ball. They are of the highest quality, tough and built to last— resistant to cracking and fading and now gives you the added dimension of antimicrobial protection.
We clean the ball-pit balls with a state of the art washer. The HyGenie™ has patented technology equipped with ultraviolet sterilization. There is no other system like it for control of bacteria, mold, virus, and algae.
Soft Play:
Our soft play items are designed and manufactured by Wesco with equipment to meet North American ASTM standards (American Society of Testing and Measures) for Indoor Soft Playgrounds bought directly from the manufactures.  Wesco are experts in the Playground Industry. They use only the highest quality parts and do not cut corners or compromise safety.
Play Structure:
Our play structure is from CedarWorks.  They design products that are durable and beautifully playful. It's as much about functionality and durability as appearance.
CedarWorks is a family owned company in the US and prides itself on their product and service.  CedarWorks also donates 10% of profits to organizations and programs that benefit kids and the environment.
They use splinter-free, chemical-free, maintenance-free high quality furniture grade woods with earth-friendly finishes. CedarWorks provides the only play products made from natural materials that safely encourage both physical and imaginative indoor play. The locally sourced White Ash used in the posts and braces is the same wood traditionally used for Major League baseball bats, so it's strong enough to handle anything your kids throw its way. Add to that the cabinet grade Baltic Birch panels that are always beautiful, safe, and strong, they are also finished with kid-friendly ultra-low VOC water-based stains. Good for your kids, and good for the earth, too.